In this A Woman's world book review, you will come to terms with the challenges that women used to be subjected to in the lost history. This is a spellbound story of a woman that not only defies all odds but has enough courage to go against the grain.
Baya is confronted with recurring challenges in her life and has been given adequate training to emerging triumphant in the three-day trial, which will determine her fate. These trials have been specifically designed to test the character of an individual who will later rule the world if she succeeds.
Will Baya make it? Is she ready for the trails that she has been made to prepare her entire lifetime for? Most importantly, does she really want to go through these rigorous trials? "A Woman's World" is a rejuvenating book that addresses some of the prevalent issues that hold immense importance in this current world. 
About the Author: Lynne Hill-Clark
Lynne Hill-Clark is an aerodynamic writer that knows what she is doing and gives due diligence to the topics that are relevant in today's world. She is a fun, light-hearted writer that tries to keep it all fresh without being monotonous in writing.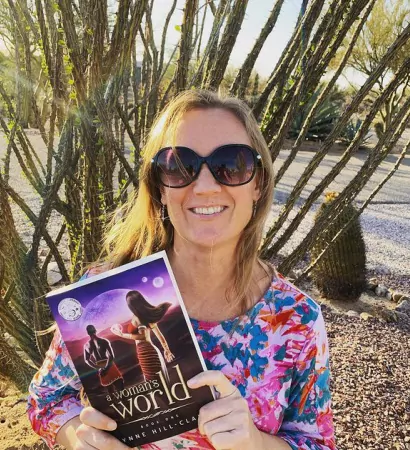 Her stories are usually stacked with intriguing plot twists that will undeniably be worth your time. Lynne loves to work out and makes sure that she listens to at least one audiobook in a month. She gained significant popularity through her enticing writing. 
She adores writing and always tries to bring her vivid & immersive thoughts to the pages of her book. Breathing life into the unknown world is one of her specialities that readers can spot while reading her books. She is always on the hunt for creative twists that propel the level of the story manifolds, so you might want to be on the lookout for new works. 
Plot of A Woman's World:
The A Woman's World book review that you were looking for is right here as this is a story that is worth paying attention to. The protagonist of the story "Baya" is uncertain about the future that her mother has in mind for her.
She struggles to align her thinking with her mother's, which is a little problematic for her. Baya's upbringing revolved around preparing her for the three major trials, and she's been given all kinds of instructions to help her get accustomed to what her future has in store for her. It will be a set of three trials that are organically ancient and used to be a common practice.
Baya will be going through these ancient tests in hopes of emerging triumphant and such tests will span across three days only. It can also be viewed as an entire lifetime work which is put through such tests in just a matter of three days' period. 
The trials have to be conducted to ensure that she will be a perfect ruler who is eligible to rule the world. These tests will thoroughly check her strength, resilience & drive to strive in order to become a befitting ruler of the world. But what if she underperforms? What happens if she doesn't meet the desired expectations? What will be her fate once the tests are over and people come to terms with her grit & resilience?
Baya has to overcome the emotional challenges and has to ace these trials, or she will end up dead & gone. Yes, Gone with the Wind! But, Baya has something else on her mind. Something that people hadn't quite anticipated and later witnessed all unfolds.
Challenges Baya has to Face:
Baya neither wants to end up dead nor become the ruler of the world, and this is where fate remains undecided, and she doesn't have many options at her disposal. 
The real challenges are not these imminent trials that she has been prepared all her life for but what comes after that. This is where the true form of challenges, adversities, unpredictability ensue. "A Woman's World" is a fascinating story that has the pleasure of love, the pain of loss, elements of survival instincts. Women have been displayed as the dominant gender in the book, which has profound reasons and can be vindicated by the buried history.
Baya falls in love that teaches her valuable lessons of life beyond the trials & the world's ruler. She addresses the world from a different perspective and gains true insights into right & wrong. This paves the way for an unprecedented journey for Baya that she is quite unprepared for.
The entailing adventures give her a lot to learn, which are quite off the charts in the world that she lives in. The underlying issues that have been addressed in the book make a load of sense in today's world which makes the entire story worth reading & contemplating.
Readers can also leverage the fun of reading about the animals that can communicate with humans that add depth to the story. The burden of trials & tests and banishment is pervasive once the story begins to take the readers deeper into it. The prospects of making it alive through the wilderness & the non-stop plot twists are sure-shot to keep the readers hooked to it. 
Writing:
"A Woman's World" is an impeccably written book that takes the readers on a journey that is stacked with defiance, love, struggle, grit, passion, and motivation to stay alive. The book has been written in simple English that will not give anybody a hard time while reading.
Carefully chosen words in the sentences make it all a cherry-on-top as that is exactly what is expected from a fantasy genre book that hits you as if it all were all real. You might have gained a significant picture of the book through this A Woman's world book review, so it's time for you to unleash the adventure. 
Final Verdict
BooksLoveMe Publishers liked the essence that the book radiates. The entire storyline is fresh and unique, which makes this book a worthwhile experience. You are in for an unprecedented adventure once the story starts making sense to you from the initial pages.
The attention is easily retained, thanks to the plot twists that keep the stake higher for the book. Baya's story is no less than a Hollywood blockbuster as it has every element of building a character too rich & deep that stands stiff in the end. There is no going back once Baya decides to go against the grain, and this adds a significant richness to the story. So, that's all there is to this A Woman's world book review, let us know what you think about the book in the comment section down below.