The story of my experiments with truth is an autobiography of Mohandas Karamchand Gandhi, translated by Mahadev Desai. This book also covers a brief introduction by Sunil Khilani.
The idea of the autobiography came up because of the weekly publication in Navajivan. It came across the pages as one chapter a week.
The book's sole motive is to represent Gandhi's experiments with truth. This is a kind of spiritual book capable of mesmerizing the reader.
With the motive to write the truth and make it reach out to the general public, this book did a great job.
In the author's words, the stories shared are mere illustrations, and the readers must conduct experiments themselves with the truth.
The book was in the making process for 5 years and first published in 1948 as a US edition. It even made its place in the '100 best spiritual books of the 20th century'.
The Story with My Experiments is one of the most read and translated books of India so far. It gives a glimpse of Gandhi's life in his own words.
This book is undoubtedly a must-read for all those looking for a good spiritual read. Have a better insight and enhance your knowledge.
The political aspect of Gandhi's life is low for the betterment of non-political readers. Suitable for all ages, some of the stories can act like bedtime ones for your child's betterment.
Meet the Author: M.K Gandhi
M.K. Gandhi, better known as the father of the nation, is a name that everyone knows. His life was no less than an inspiration for many.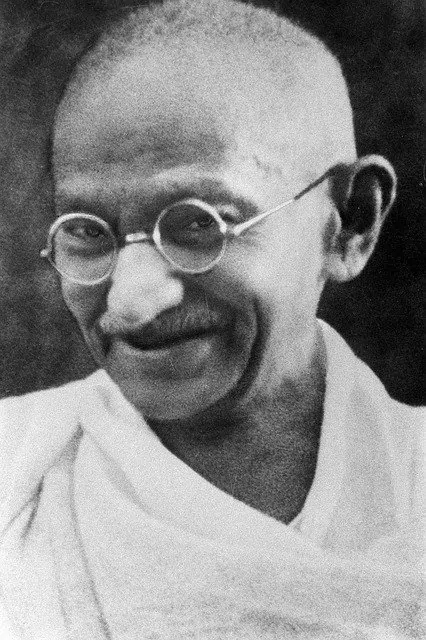 Born on 2nd October 1869 in Porbandar, he belonged to the Bania caste. He is well known for his non-violence movements against the British for India's freedom.
All his achievements and appreciable work are there in his autobiography. He spent 21 years in South Africa and has made many valuable contributions there.
Addition of the title 'Mahatma' to his name in 1914 in South Africa because he campaigned for civil rights. Gandhi is popular with many different names as well.
His career was not limited to his education as a lawyer. He was also an activist, a politician, an author, and an initiator of many non-violent movements.
Married at the age of 13 to Kasturbai, he had four children who helped and supported him in many of his movements. His ideologies are recognized appreciated worldwide.
The York University of Canada has a statue of Gandhi. Many world readers have derived inspiration from his ideologies and took action from the same.
Needless to say that his birthday is celebrated as a National Holiday in India, the same goes for The International Day of Non-Violence (2007).
He has earned many awards and recognition during and after his lifetime. A documentary was also made later in his life.
Due to an unfortunate event, the nation lost its gem in January 1948 by assassination. A memorial, Raj Ghat, exists in Delhi, marking the spot where he was cremated is now safe with black marble.
An Introduction to The Story of my Experiments with Truth
The story of my experiments with truth carries a holistic approach towards life. The 'experiments' done may be true as they cover many of the simplicities in life.
It also gives a reminder of how simple and natural things matter a lot in life. These are also the ones that can make your life feel complete.
As said by many, it is both a reference book and a story. Considering this book as desired is depends on the reader.
This book includes various aspects like diet, spirituality, medicine, and non-violence. You'll be able to notice the depth of the ideas presented by M.K Gandhi.
The story of my experiments with truth will take you to the time before India's freedom and make you see the world through Gandhi's eyes. What problem he faces and what solutions he found.
A little belief while reading is important. Ultimate truth acts as a guide throughout the book, which results in the actions he takes.
Also, some mistakes of his life are available in the book so that people can understand and don't repeat the same.
You'll notice the journey of an introvert who became one of the most renowned people in world history. It is a book about faith and truth, which are quite important in everyone's life.
Even though it received quite a lot of criticism, this book is one of the greatest gifts for the generations to come. You'll find all his worth experiments and may even realize his greatness.
What The Story of My Experiments with Truth holds?
Part one of the book deals with his childhood. You might feel some of these stories interesting and relatable too. All aspects discussed are simple and quite entertaining.
He tries many things and goes through many disheartening incidents that end up with a positive note. The second part covers more of his career as a lawyer.
Also, events that made him ready for South Africa. His view of society is visible in this part. Understanding his duty and actions according to his policies of non-violence, covered in the third part.
You can find all about Satyagraha in this one. All his work at this time led to the title of 'Mahatma.' Plenty of problems were going on along the fourth part because of which Gandhi turned a leader.
His efforts for the freedom of India starts. He attended various conferences and actively participated in the freedom movement keeping his ideology of 'non-violence' intact.
The final part discusses his fight for independence against the British. He spent a few years in this period. Gandhi explains how some of his movements and failed and how it made him unsatisfied.
He writes a farewell for the readers, and the book ends in the 1920s. Everything presented in "The Story of My Experiments with Truths" is in chronological order for a better understanding. All the chapters come with a title that provides a rough idea of itself.
Detailed Analysis
The book comes with five different parts, which all cover different aspects of Gandhi's life. The choice of words is appreciable. There is a use of formal language along with great synonyms.
All these small improvements leave a good impression on the reader's mind and keep the interest intact as well. One can notice how effortlessly this book takes you on a journey; Gandhi's journey.
The stories shared are only important ones carrying the potential of impacting people. Most of the important part of Gandhi's life is available and each one of them holds a lesson.
Some of the readers might relate them to the stories and can take them as a guide not to indulge further in those activities. Sometimes you may feel that the topics are jumping and not relatable to each other.
You may come across a few grammatical errors, but they may have little impact, given that the stories are moving. You can also find some truths of life now and then.
Do make sure to keep a pencil along to highlight them. The concepts of the story of my experiments with truth is commendable. It deals with the spiritual aspect and how it is so important—making the book suitable for readers of various interests.
One can say that it was quite thoughtful of Gandhi to discuss the spiritual aspect instead of the political. You'll learn more unheard stories of his life instead of the infamous involvement in politics.
The audience may not understand all the available ideologies in the book, but a broad mindset may help them in accepting them.
A Glimpse of the Characters and Writing
All the characters discussed in the book played an important role in Gandhi's life and have supported him throughout his journey. Various names come up from time to time all carrying their role.
Some of them include his family members, who play an important role in his childhood. Other people include G.K. Gokhale, Parsi Rustomji, C.F. Andrews, and many more.
You would get a brief about almost all the characters. The plot gets interesting in the last two parts as the real struggle begins from here. It is also the time where Gandhi finally gets to apply his ideologies in real.
He sticks to his visions and continues to spread them. Reader witnesses both the success and failure on the same time. The flow of the story is quite smooth and even relatable at times.
One of the best things about The Story of my Experiments with Truth is that all the stories presented are true and without any major omissions. The simplicity and the motive to write a autobiography made it possible.
The story is simple and inspiring at the same time, which makes it one of a kind. It moves gradually but leaves a mark on the reader.
It is preferable not to rush through one for the best experience of your life. In simple words, this is journey of a common man who made a mark on the world through his actions.
What I like the Most in The Story of my Experiemnts with Truth?
The translator has done a great job. One can say that he has depicted Gandhi's journey well. The division of books into many parts, which make it seem like a collection of short stories.
You'll gain a lot of perspective with this one. Many lessons resirdes in the stories. If applied in real, can be quite beneficial for all of us.
Various quotes of Gandhi are shared that have a deep meaning. The discussion of all the stories comes in a raw form, making them easy to understand.
You'll would have a continuous interest in this one as the lexicon is simple. It is a light-hearted one that will help you in meeting new concepts. In
some parts, you may even want to increase your pace to know what happens next. A lot of unheard tales exists in this book, which will make you feel overwhelmed.
The theories of non-violence are quite inspiring and can bring back your faith. It will change your belief system about Gandhi and all the negative criticism he has received over the years.
It is a perfect guide for all those who would like to know who really Gandhi was.
What I didn't Like
At some parts, it feels like the book is running a little slow. A few parts are being talked about for a long time and too detailed, resulting in a little slow plot.
Whereas some portion of the book covered in brief without throwing proper light on them. A few grammatical errors also come across and despite the translator's great job.
Although the ideologies are quite great but the fact that some things are repetitive throughout the book. I expected it to be a little vaster, so a suggestion to the readers will be to read this one without any prior judgments.
Even after great efforts and motives, it may fail to connect to most of the readers. It relates more to history resulting in boredom at a few parts.
Hence anyone interested in knowing his history must go for the story of my experiments with truth. It may even seem cold at times as the raw emotions that one desires while reading is somewhat missing.
The Story of My Experiments with Truth shows how Gandhi lacked writing skills to some extent. And, it ends abruptly in the 1920s when there was still a lot to cover.
Conclusion
A wholesome read, it will keep you entertained for sure. It describes the truths without any hesitation.
The evolution of various movements is discussed quite well. Perfect for all age groups interested in history, it will enhance the knowledge for sure.
A good read, focusing on many important aspects of life, it is surely worth all the time. It is indeed an important one and something you'll cherish for a long time.
Get to know him better and in the most natural way possible. A great guide which is applicable in these times as well, you can go for this one without any second thought.
Some M.K Gandhi quotes:-
''Nothing once begun should be abandoned unless it is proved to be morally wrong."
"If all had the same belief about all matters of religion, there would be only one religion in the world."
"But you can wake a man only if he is really asleep; no effort that you may make will produce any effect upon him if he is merely pretending sleep."
Loved it? Read more Non-Fiction books.
If you love reading biography, I would recommend you to read the biography of A.P.J Abdul Kalam – Wings of Fire.