"Struggle is life"- Sudha Murthy
Sudha Murthy Books: Sudha Murthy is one of the distinguished writers of India. She is an eminent personality known for her short stories. Travelogues, non-fictional pieces, and children's books are also written by her. She is a recipient of many awards consisting of Padma Shri in 2006 and the R.K. Narayan Award for literature. Karnataka government honoured her with Attimabbe Award for excellence in Kannada Literature.
She is the first woman engineer of India. She got her degree completed in 1950. Nowadays, she is the chairperson of Infosys Foundation.
Sudha Murthy is a philanthropist. She is also a member of the public health care initiatives of the Gates Foundation. Her social works include women empowerment, uplifting the destitute, education, health and hygiene.
She has also contributed in various rescue programs. For instance the earthquake in Gujarat, drought in Karnataka, the tsunami in Tamil Nadu and etc.
She has helped in building of houses in flood-affected areas with help of Infosys Foundation. She aims to set up library in every school in India. This vision of hers has set up more than 50,000 libraries so far.
Moreover, at the international sphere we have 'Murty Classical Library of India' at 'Harvard University'. She has received 'Best Teacher Award' from Rotary Club in 1955 at Bengaluru.
Her contribution to the literature and world is immense. She is a role model for many of the Indians, especially female folk.
This article aims to provide you with top 10 books by Sudha Murthy, which are most read and recommended. Following are the books; we are going to acquaint you with-
How I Taught My Grandmother To Read
In the beginning, our parents take care of us, and with time they grow old. With stepping towards old age they crave love and compassion.
When our parents get old, we grow as an adult. We get busy in our mundane lives and cannot devote the required time to our parents.
At this point, grandparents develop a close relationship with their grandchildren. They fill the void in each other's lives. Supporting each other, they grow and their love blooms gardens of affection
Grandparents are the apple of the eye for every child. The amount of love and affection they shower on us is immeasurable. The relationship that a child shares with his/her Grandparents is precious.
Sudha Murthy in her book, 'How I taught my grandmother to read' represents a similar kind of relation. This is a very beautiful tale. It is about a close relationship shared between a granddaughter and her grandmother. It is where she teaches her grandma to read and write Kannada.
This story is full of love, compassion, and care. You may end up getting your eyes teary. This book can help you nurture a better relationship with your elders.
Well, you should not think twice and get your copy soon.
Mahashweta
Today, we all are bound by certain defined parameters. A girl should play with dolls and a boy with cars. Man is the master of the world and woman, of household.
An ideal wife should be self-sacrificing. An ideal husband should earn six digits of income. Why are we stuck with such orthodox norms?
Why there are norms in society as per gender? And, why do we have to abide by these gender roles? Who defines that such a person is ideal?
It is true that things have changed with time. People today, are more liberal and accepting. Still, we know somewhere deep in the heart that we follow these set patterns.
In this Sudha Murthy's book "Mahashweta" it is a tale which breaks away all these orthodox norms. She attempts to portray the power of self reliance.
She depicts through the story that a woman does not need the support of a man to lead a happy life.
This book by Sudha Murthy spreads the message of self-acceptance. When one reads the plot, it tells how and why one should be just oneself.
Anupama, the protagonist of the fable suffers from leukoderma. When her husband discovers her ailment, her husband leaves her bereft.
She remains alone in this world as her husband leaves her. She moves to Mumbai to start a new life. There must be some challenges which she comes across.
What are the challenges that she faces? How does she manage everything on her own? Does she get cured? Is her ailment chronic?
Read the book and find out. It is an adventurous tale which will drive you through the traumas of a single woman. Jump in and get your copy today!
The Serpent's Revenge
You must have heard of the two most important books of Indian mythology. For every Indian, it is peculiar to not to be familiar with Ramayana and Mahabharata.
The epics tell the stories of ancient India and familial rifts. There is a joint family where prevails immense love. But an antagonist disturbs the peace of the family with evil deeds.
There is much more than what I have told here, in these legendary books. These stories are the tales told in every house either by parents or grandparents.
Sudha Murthy for her book 'The Serpent's Revenge' takes the incidences from Mahabharata. She molds the characters and the story line according to her plot.
These are some of the jaw dropping tales which will leave the reader in the state of awe. You are to unveil some hideous and unknown facts about the Mahabharata.
The story is full of with various characters but I guess you are good at recalling the names. Test your potential through diving into this wonderful Sudha Murthy book.
Three Thousand Stitches (a must-read for all)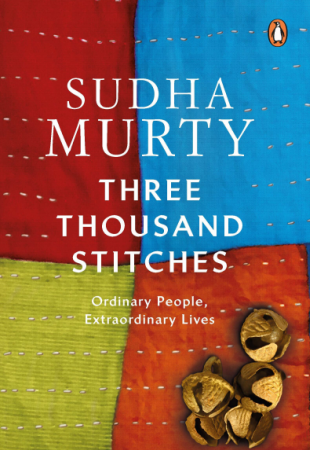 We get filled with an emotion of awe and fear when we hear about any natural calamity. We pray for the victims and do donations as well, if possible.
As we know that Sudha Murthy is a philanthropist. Her organization Infosys Foundation has always been a major support to needy.
In this book, she pens down her encounter with the flood victims in Karanataka. And, also how she rescue and rehabilitate around 3000 people. Her struggles of being the single girl in the engineering college full of boys are also discussed.
This story will leave you moved and inspired. It is my personal belief that Sudha Murthy can be a role model for many individuals.
If you read this book, you will find out on your own why do I believe so. It is your call now, whether to find inspiration in her.
The Mother I Never Knew
We all have some peculiar relatives who ask these strange questions. As a child, I remember this weird question asked many times that who do I love the most- mother or father?
I used to mum my word and not answer for long. You too, must have faced similar sort of bewilderment in your young age. Some children do answer as both of them.
But the answer never appears satisfactory to the relatives. We love both our parents in equal proportion. We never differentiate. As we grow old, we realize that our parents need a different kind of affection.
'The Mother I Never Knew' is one the Sudha Murthy books that intrigues the readers by making them question their faith in their parents. It is a set of two novellas. The writer explores the idea of dark past and hidden truths.
The central characters in the stories come across the mothers they never knew they had. In one story, the protagonist gets to know that his parents adopted him. He searches for his biological mother.
In other, the lead character discovers the truth about his step mother. The plot of both of the stories is quite intriguing.
You can satiate your curiosity by reading this gripping book by Sudha Murthy.
Grandma's Bag of Stories
Grandma's stories are the best childhood memories for everyone. I can bet, that one used to enjoy this time.
From panchatantra to fairy tales, grandma would surprise us with another tale. It used to be fun to listen to her narration of some amazing fables.
Those evenings were wonderful when grandma would ask, what do you want to listen today? Children used to throw at her their favorite fables.
'Grandma's Bag of Stories' is one of those sudha murthy best books that brings back the golden time. She thrives on jotting down some of the most loved childhood fables.
The plot of the novel has Ajji, with four grandchildren namely Anand, Krishna, Raghu and Meena. Ajji, tells some interesting tales to these children. Come on readers, let's walk down the memory lane and relive the childhood.
The book will surround you with nostalgia. Here is the chance to embrace your childhood again. Don't think twice because a stitch in time saves nine. Grab the copy in best available price with the link below-
Dollar Bahu
What should matter the most to an individual bleak sound of gold or music of spirituality? Well, in debate between money and spirituality, money always wins.
It is well said that the greed of a human is insatiable. An individual always wants more. And in this race of wanting more, one forgets what his actual desire is.
In her book 'Dollar Bahu' Sudha Murthy carves a beautiful story about greed. It is a story of a mother-in-law with two daughters-in-law.
In this narration, one bahu is lavishly rich and other is spiritually high. It becomes a matter of bewilderment for mother-in-law about whom to love.
But, she is more inclined towards her rich bahu. Mother in law neglects what in real sense is a treasure and runs after illusion.
Where does the greed lead her? Where does she reach at the end? Does she ever realize which one is the true treasure?
If you want to know the answers of all these questions and many more; buy your book and read on.
Wise and Otherwise
This Sudha Murthy book is a reality check for everyone. The reader will not be able to stop contemplating some questions. These questions are like is the misbehavior in any form justified? Is it okay to ill-treat people around you?
It is easier to preach people about humanity but it is not easy to practice it. There is a saying 'practice before you preach'.
When you lecture someone on doing good, how often do you apply it on yourself? Do you introspect and realize you too are wrong many a times?
In today's world, being a good-doer is not important rather boasting of doing good is more important. If one helps any needy, he definitely flaunts it. There are only few people who do not.
Sudha Murthy through 'Wise and Otherwise' shares such experiences with people. The tales are set in different parts of India.
She describes some incidents from brutal to benevolent. In this Sudha Murthy book we acknowledge that there are many kinds of people in the world.
This book of Sudha Murthy is a journey which you would love to travel. This can be a life changing experience for the reader.
Even if you have never read any of the Sudha Murthy books, this collection will make you fall for her writings. Hop on and see the world through Sudha's perspective. Get your copy with the link mentioned below- –
The Day I Stopped Drinking Milk
I never liked drinking milk, neither in childhood nor now. You must have watched those advertisements of Complan or Horlicks. They do everything possible to entice the kid to drink milk.
My parents used to do the same for me. I remember, I was being bribed for drinking milk. You too, must be having your milk story.
The title may make you think that it is some children book but it is actually not the same. The day one stops drinking the milk, he grows up.
The title is metaphoric in nature. Sudha Murthy in her book tells the readers some heart touching tales about life.
Life is the best teacher of all. Gathering some moving experiences from people's life, the author tries to inculcate in readers some lessons which could be a turning point in one's life.
The Magic of The Lost Temple
There are some mysterious tales prevalent about vast jungles in the village. Those stories are always mesmerizing.
In childhood, we used to give each other the dare to go to hideous places at night. If you have watched the bollywood movie 'makdi', you could relate to the psyche of a child.
'The Magic Of The Lost Temple' is one the sudha murthy books that takes you back to your childhood days. It is a heart-warming fable of a young girl Nooni.
She is a city girl who visits her grandparents' village. She draws a contrast between the city life and village life.
Soon she adapts herself in the environment. She learns papad-making, and other rural things. She enjoys her life in the village.
One day she discovers something strange in the village jungle- a step well. What happens next? How does she reach there?
Grab your copy to find out the hidden treasures between the lines.
Conclusion of Top 10 Sudha Murthy Books
A Sudha Murthy book is a perfect pick to make your weekend wonderful. You may or may not be a nerd, but her books will always be loved by you.
Being a philanthropist, she fills her books with kindness and humanity. When one reads a Sudha Murthy book, he not only enjoys the plot but he also imbibes in himself some ethics.
The reader's favourite is Sudha Murthy's book of short stories. They are not so much time consuming and also are fun to read.
My personal pick among all the Sudha Murthy books is 'How I Taught My Grandmother To Read'. Tell me yours in the comments section below-
Moreover, you can check our Fiction Book Reviews and Non-Fiction Book Reviews.